Vivian Schiller, NPR chief, resigns amid uproar over 'sting video'
(Read article summary)
Vivian Schiller, CEO of NPR, stepped down Wednesday in the wake of a sting video that showed an NPR fundraiser disparaging conservatives. With the Vivian Schiller departure, NPR is left to fight criticism that intolerance is part of its DNA.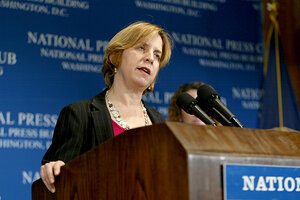 Carrie Devorah/WENN.com/Newscom/File
NPR chief executive officer Vivian Schiller resigned Wednesday in the wake of a sting video that showed fundraiser Ron Schiller (no relation) disparaging conservatives, the tea party movement, and former NPR political analyst Juan Williams, whose firing in October may have set into motion one of the most tumultuous eras in NPR's 41-year history.
James O'Keefe, the controversial conservative sting artist behind the ACORN "pimp videos," said Mr. Williams's firing in October sparked the latest sting operation, in which two actors posing as representatives of a Muslim Brotherhood front group met with Mr. Schiller, a fundraising vice president, to discuss making a $5 million gift to NPR.
The departures of Vivian Schiller and Ron Schiller – and the reason behind them – may further damage NPR's reputation as a public-service broadcaster and could threaten taxpayer support of NPR, which indirectly comes to about $90 million a year.
The Juan Williams treatment: five other ousted media personalities
NPR reporter David Folkenflik said on-air Wednesday that Ms. Schiller was "forced out," a hint that the organization wants to jettison its leadership and set a new direction.
---