Post-Vivian Schiller, big stakes in NPR's next moves
(Read article summary)
Time to reinvent public radio? As NPR's board of directors launch search for new CEO after Vivian Schiller exit, big issues confront next leader. Among them: reputation makeover, public funding issue, and online presence.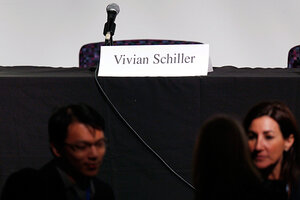 Lucas Jackson/Reuters
The short, tumultuous leadership of Vivian Schiller is over at NPR, leaving public radio employees shellshocked, wounded, and peering into an uncertain future.
Her departure – coming less than a day after an undercover video showed an NPR fundraiser, whom she had hired, belittling tea party Republicans and conservatives in general – is the third top-level exit in recent months. The fundraiser, Ron Schiller (no relation to Ms. Schiller), is also gone, as is longtime producer Ellen Weiss, who was forced out as senior vice president of news after the controversial firing of news analyst Juan Williams in October.
The exodus has left NPR shaken and buried in controversy. Its 17-member board of directors, which includes 10 heads of member public radio stations, says it is putting together a search committee to find NPR's next leader. But whoever gets the job will take the helm of an organization whose journalistic reputation has been tarnished, that seems conflicted about the need for continued federal funding for public broadcasting, and that has big unresolved points of tension between itself and local public radio stations across the US.
Are you smarter than a Fox News viewer? How about a CNN viewer? Take our quiz to find out.
At stake is not only the future of NPR, but also perhaps American journalism itself.
---