Tempest in a Twitterpot: Why Keith Olbermann generated such a fuss
(Read article summary)
Keith Olbermann transported his signature show from MSNBC to the little-watched Current TV, almost quadrupling their ratings – and setting off a twitterstorm by running long.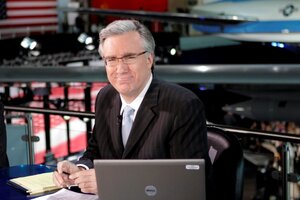 Mark J. Terrill / AP / File
Former MSNBC commentator Keith Olbermann is back, having transported his signature show – mostly intact − to Current TV, the cable channel co-founded in 2005 by former Vice President Al Gore.
And he brought at least some of his viewers with him on his first night out. Among adults 25 to 54 – a sought-after advertiser demographic – Current TV had 179,000 viewers Monday night, according to their own figures. By comparison, MSNBC had 237,000 viewers in that demographic, and CNN had 89,000.
After nearly half a year off the air, "Countdown with Keith Olbermann" debuted in the 8 p.m. slot Monday night. The show ran a few minutes late, thus overlapping with his former MSNBC colleague, Rachel Maddow. Her fans tweeted their disapproval. Heated rounds of digital dustup ensued.
What better way to come back to the air than with a tiny tempest in the Twitterpot?
This Twitter fuss is a gift to the marketing department at Current TV, says Paul Levinson, a media professor at Fordham University.
Current TV needs all the help it can get, he adds. While it is currently available in some 60 million US homes, via most major cable carriers, its programming has failed to attract meaningful audiences. The 8 p.m. slot has been averaging some 50,000 viewers, so Monday night's ratings represent a massive jump.
---