Five picks for Michele Bachmann campaign song, now that Tom Petty said no
(Read article summary)
'American Girl' is nixed, per rocker Tom Petty. Now what song will play when GOP presidential candidate Michele Bachmann walks onstage? Here are five possible alternatives.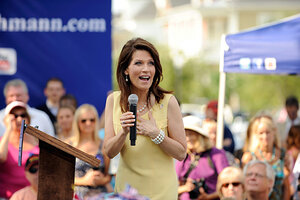 Andy Dunaway/AP
Rocker Tom Petty has torpedoed Michele Bachmann's use of his "American Girl" as a theme song, if you haven't heard. The newly declared GOP presidential candidate had been playing the piece when she walked onstage at public events.
Petty's management has sent the Bachmann campaign a cease-and-desist notice, according to Rolling Stone. Thus Ms. Bachmann joins the long list of Republican politicians angrily told "You Wreck Me" by liberal musicians who claim their music is being used against their will.
The band Heart objected when Sarah Palin used their "Barracuda" on stage at the 2008 GOP convention, for instance. John Mellencamp didn't approve of John McCain using his "Our Country" in the 2008 campaign. (Senator McCain's advisers perhaps did not know that Mellencamp played at the 2004 Democratic National Convention.)
---