Mark Halperin suspended indefinitely from MSNBC: When language bites
(Read article summary)
After referring to President Obama with a term that can't appear in a family newspaper, MSNBC commentator Mark Halperin was suspended from the network and issued a warning by Time Magazine, where he is an editor-at-large.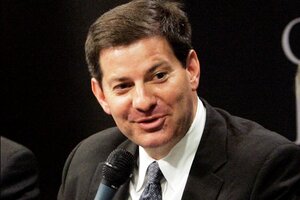 Sue Ogrocki / AP / File
MSNBC senior political commentator Mark Halperin was suspended indefinitely on Thursday, after casually tarring President Obama with … well, let's call it an epithet that polite company uses only as a nickname for Richard.
The Time editor-at-large, appearing on Joe Scarborough's "Morning Joe," was dissecting the president's Wednesday press conference when the host asked him how he really felt.
Mr. Halperin asked if the seven-second delay was available, and the cohosts urged him to "go for it."
He did.
The delay was not used and the term went live. Within hours, everyone from the network brass to Halperin himself, Time magazine, and the White House press secretary had weighed in, dubbing the word "unacceptable" and "inappropriate."
The hubbub over Halperin's comment raises questions about the decline of political and civic discourse, the pressure for ratings in a 24/7 news cycle, and of course, the impact of a popular culture more comfortable with throwing potshots than respect at political leaders.
But it also has to be asked, whatever happened to the well-turned insult?
"Thou clouted, rampallian haggard," anyone? How about "Thou mangled, beef-witted barnacle" or "Thou tottering, weather-bitten lout"?
---