Glenn Beck ends his run with Fox News. What's next?
(Read article summary)
Glenn Beck has departed the Fox News roster: his final show for Fox aired Thursday night. Next up for the political commentator: a three-sided chalkboard and a line of clothes.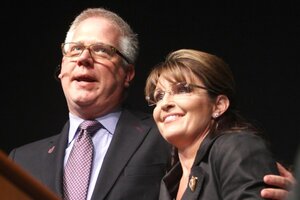 Zuma/Newscom/File
Glenn Beck's last show on Fox News aired Thursday. Much of it had a good-bye-to-all-that valedictory tone. For instance, the talk host ran an opening video composed of quick clips of past shows – Glenn singing while wearing a Viking headdress, Glenn letting fake snakes out a can, Glenn talking in front of a photo of a big field of sunflowers, etc. It was, as Mediaite opined, "like the video you'd play on the last day of summer camp ('Remember that time Glenn won Capture the Flag? Aw, I'll remember you guys forever!')."
But the colorful conservative populist did take a few shots at favorite targets in his final hour on traditional TV – like Jon Stewart, the Comedy Central host who's been feuding with Fox News. Beck noted that his opening monologue typically runs about 21 minutes, while Stewart's takes six. To help fill that time Beck has two writers, while Stewart has dozens.
"It's easy to speak from the heart," said Beck, who's been known to tear up on air.
But OK, we get it, the Fox gig is over. It's on to the next thing. What's the plan now for a guy whose ratings have declined 23 percent over the past year but can still command two million viewers at five in the afternoon?
A THREE-SIDED CHALKBOARD. GBTV, that's what. Beck is starting up a two-hour Internet streaming show for paying customers in the fall. Like Oprah, he's apparently tired of being anybody's employee, and he's going into the media production business himself. Rest assured that the production values on his new net venture will be cutting edge. Instead of the school chalkboard Beck used on Fox to outline his theories – such as George Soros's plot to bring down America – his new show willl feature a fancy new three-sided spinning chalkboard designed by GBTV's staff. He showed off the design on a preview video.
---