Sarah Palin biopic opens in theaters. How's it doing?
(Read article summary)
The Sarah Palin documentary 'The Undefeated' was never going to beat 'Harry Potter' at the box office. But at one theater in conservative Orange County, Calif., only the reviewer showed up.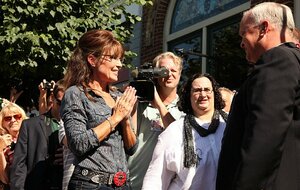 Andrea Melendez/The Des Moines Register/AP
That new Sarah Palin move "The Undefeated" opened its theatrical release on Friday. How's it doing so far?
OK, bringing up dollar figures may not really be fair. "Harry Potter and the Deathly Hallows: Part Two" is setting the bar kind of high this weekend, as it leviosas approximately a billion galleons into its producers' pockets.
Also, "The Undefeated" is playing in only 10 theaters nationwide. Distributors put the flick in a small number of mostly conservative test markets, such as Dallas and Orange County, Calif.
The plan is to roll the film out to more cities if it does well. Presumably, it might expand distribution if Ms. Palin decides to actually run for president, as some reviewers have noted that it could serve as a campaign biography.
That could happen soon – the decision as to whether to run, we mean. On Wednesday the ex-Alaska governor told Fox News's Sean Hannity that the time to fish or cut bait (yes, it's a cliché, but appropriate in an Alaskan context) on a White House bid is drawing near.
"You know, August and September, you do have to start laying out a plan if you are to be one to throw your hat in the ring. So that – that's basically the timeframe," said Palin.
---