Did Newsweek set out to make Michele Bachmann look like a loon?
(Read article summary)
Newsweek is coming under fire for a wild-eyed cover photo of Michele Bachmann. The headline calls her the 'Queen of Rage.' But was the rough treatment actually a compliment of sorts?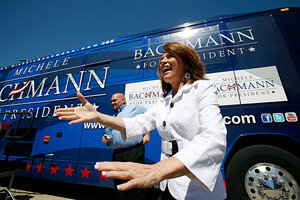 Charlie Neibergall/AP
Does Michele Bachmann's photo on the cover of the current issue of Newsweek make her look like a loon?
It's not flattering, that's for sure. The shot shows her staring out with wild eyes, as if she just stepped on a slug and is trying to not scream with revulsion in front of the photographer.
Or perhaps, just before the shutter snapped, someone in the room said, "Oh look – CNN says Rick Perry is getting into the race!" And she's reacting to that, because, you know, Perry would be a formidable competitor for a Bachmann core constituency – Christian evangelicals.
The cover headline – "Queen of Rage" – multiplies the overall wingnut effect of the presentation.
Newsweek has received lots of criticism for the cover package. Even the National Organization for Women, which disagrees with Rep. Bachmann about pretty much everything else, defended her on Monday.
"It's sexist.... Surely this has never been done to a man," said NOW president Terry O'Neill.
Really? As practicing journalists, we have perhaps a different view of this controversy.
---