Is Christine O'Donnell planning another run for office?
(Read article summary)
What if Christine O'Donnell's publicity-grabbing walk-off of 'Piers Morgan Tonight' was not about selling books, but instead about selling a candidate?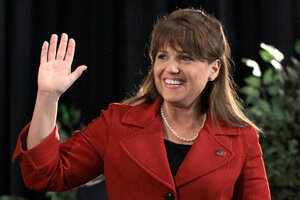 Rob Carr/AP
Christine O'Donnell, the former GOP Delaware Senate candidate and self-professed non-witch, walked off Piers Morgan's CNN show yesterday, if you haven't heard. The precipitating moment was a query about gay marriage, but prior to that Mr. Morgan had been going into what Ms. O'Donnell considered a fairly personal line of questioning. So she bolted.
On Friday O'Donnell told NBC's "Today Show" that she wanted to stop "the borderline sexual harassment that was going on."
The incident bought O'Donnell more buzz than you get from a stadium full of crickets. Did she plan the whole thing? Possibly. Her new book "Troublemaker: Let's Do What It Takes to Make America Great Again," could use a boost. It was sitting at number 3,329 on Amazon's bestseller list, last time we looked.
(However, the e-book version is No. 2 in the "State and Local Government" nonfiction category. So that's something.)
But here's another thought: possibly this is not about books, but about politics. Is O'Donnell planning another run for office?
At the end of her "Today Show" appearance O'Donnell was asked if she plans to be a candidate again. She said, "You know, honestly I don't know. But what I hope is that I can, going into 2012, continue to remain a voice. I've been honored that some people have called me a leader in this movement and I want to hopefully continue that."
---