Will 'petty' bio win Sarah Palin some sympathy?
(Read article summary)
It's possible that the author of the new Sarah Palin biography – who rented the house next to the Palins' home in Wasilla, Alaska – has helped the 'mama grizzly' more than hurt her.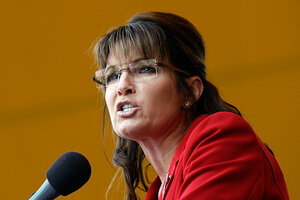 Stephan Savoia/AP
Sarah Palin is the subject of a racy new biography, if you haven't heard. "The Rogue: Searching for the Real Sarah Palin" by Joe McGinniss contains allegations that the former governor of Alaska has used drugs, committed infidelities, and is a bad parent, among other things.
Predictably it's drawn a strong response from the Palin camp.
The book is nothing but "disgusting lies, innuendo, and smears," said husband Todd Palin in a statement issued Thursday.
Will the book sink Sarah or win her some sympathy? It's possible that Mr. McGinness – who rented the house next door to the Palins' in Wasilla, Alaska – will help the "mama grizzly" more than hurt her.
First of all, the initial reviews are less than kind. You can see the word "scathing" from where you're standing.
Much of "Rogue" is "dated, petty, and easily available to anyone with Internet access," wrote New York Times reviewer Janet Maslin.
"Mr. McGinniss used his time in Alaska to chase caustic, unsubstantiated gossip about the Palins, often from unnamed sources like 'one resident' and 'a friend,' " writes Ms. Maslin.
Even the supposed salacious revelations are fairly mundane for a person of Ms. Palin's generation, wrote Los Angeles Times reviewer David Ulin.
Palin may be narcissistic and unqualified for office, but "I want more than innuendo to make that point," Mr. Ulin concludes.
---