Stephen Colbert vs. Karl Rove: Who's better at 'money laundering'?
(Read article summary)
Stephen Colbert has taken his mockery of campaign finance in the US to a new level by showing he can funnel unlimited, anonymous cash into his Colbert Super PAC.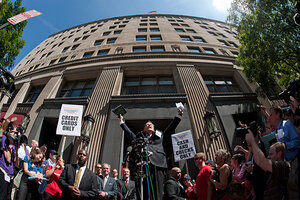 Newscom/File
Stephen Colbert is setting up something that's pretty close to a money laundering operation. Why? So that rich folks and corporations can anonymously channel money into his "super PAC" – a political action committee that in turn can spend unlimited funds advocating for issues and candidates it likes.
Again you ask, why? What's the point of a comedian setting up such sophisticated campaign-finance apparatus? The answer to that seems obvious – he's making fun of it. As we've said before, Mr. Colbert is a performance artist as much as a comic. What he's highlighting here is the absurdity of US campaign finance regulations – or rather, how they may be regulations in name only.
After all, he's defined PAC as standing for plastic and/or cash, and invited supporters to a political BYOB party – Bring Your Own Billions. His show now features a "heroes crawl" at the bottom of the screen that lists names of donors to his political slush fund.
As to the amount of cash he's collected so far, he said on Thursday's show "we're into numbers I wouldn't want to serve in federal prison".
If you're confused, we'll back up a bit here and lay out Colbert's finance landscape. In June, he won approval from the Federal Election Commission to form a super PAC, a kind of committee that can raise and spend unlimited amounts of cash on political activities. The main limitation of such organizations is that they're not supposed to directly coordinate activities with a candidate.
---