'Occupy Wall Street': Why this revolution isn't made for TV
(Read article summary)
Supporters complain the mainstream media aren't keeping pace with 'Occupy Wall Street' protests. But the movement's complexity makes big-picture coverage difficult.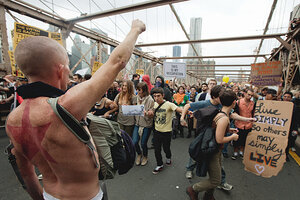 Will Stevens/AP
As the "Occupy Wall Street" movement catches fire, spreading copycat protests to towns and regions all over the globe, organizers and supporters say the mainstream media are not keeping pace.
Current TV's Keith Olbermann lashed out at what he called a "media blackout" more than a week ago, and activist Michael Moore joined him two days later to rail against traditional media's scant spotlight on the nascent protest movement.
But, polemics aside, is it really true that this revolution is not being televised? It turns out there are objective reasons the decentralized movement, which is protesting what it says is the undue political influence of major financial firms, has not generated more and better coverage.
According to the New York Observer, which has been keeping tabs on the media coverage of the Occupy actions, both broadcast and print media have been present from the inception, with ABC posting a blog and the local CBS affiliate airing a short clip on Sept. 17, the first day the group encamped around New York's financial center.
Fox News, too, aired a bit about the anti-Wall Street activists on Day 1.
---