Rick Perry calls debates a 'mistake,' but how can he avoid them?
(Read article summary)
Former GOP presidential front-runner Rick Perry says his mistake was taking part in the debates. But now that he's fallen back, it could be hard to rebound if he avoids future debates.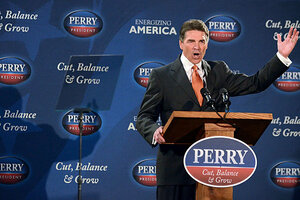 Richard Shiro/AP
It would seem that Texas Gov. Rick Perry has taken to heart the conventional political wisdom that front-runners have the most to lose in a debate – though, perhaps, two months too late.
Speaking to Bill O'Reilly of Fox News Tuesday, Governor Perry said that his greatest mistake since entering the Republican presidential race in August was his decision to participate in any of the five debates that have happened since.
"These debates are set up for nothing more than to tear down the candidates," he said. "It's pretty hard to be able to sit and lay out your ideas and your concepts with a one-minute response. So, you know, if there was a mistake made, it was probably ever doing one of the [debates], when all they're interested in is stirring up between the candidates instead of really talking about the issues that are important to the American people."
He could well be right. He has gone from strong front-runner to also-ran territory over the arc of the debates.
The RealClearPolitics average of national polls shows that Perry led the GOP field with 31.8 percent support on Sept. 12 – five days after his first debate. That was a 12 percentage point lead on Mitt Romney. Now, he's at 11.6 percent, some 13 points behind both Mr. Romney and Herman Cain.
---