Digging for political dirt? Twitter could be the source for you.
(Read article summary)
As the presidential race picks up the pace, Twitter has become the go-to meeting place for those dealing in political dirt. A Pew center study finds it a far more negative medium than blogs or the mainstream press.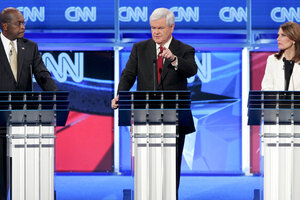 Jonathan Ernst/Reuters
As the presidential race heats up, Twitter is turning into the water cooler for more and more Americans to dish about the dark side of a candidate, according to a new study of social and traditional media sources released Thursday by the Pew Research Center's Project for Excellence in Journalism.
Noting that some 13 percent of Americans are now using Twitter, Mark Jurkowitz, the project's associate director, says, "this is fast becoming the country's vox populi."
The Pew study surveyed some 20 million Twitter tweets, blog postings and traditional news stories filed on the election from May 2 through Nov. 27, and examined them for the tone of the commentary.
"The political conversation on Twitter is noticeably different than that on blogs, and both are markedly different than the political narrative presented by the mainstream press," he says.
Tweets tend toward the negative far more than both blogs and mainstream media, he says, and they are also far more event-sensitive. "People will be sending tweets as top-of-mind comments as an event is actually going on," Mr. Jurkowitz says.
The discourse is also far more volatile on Twitter than the other media, he adds. "Blogs tend to be the least sensitive to events and news of the day," while the traditional news media still remains a steady bastion of more objective and neutral information, he says.
The sole exception to Twitter's critical tone for candidates are those relating to Texas Congressman Ron Paul, whose profile is unexpectedly positive despite lagging in both polls and overall media coverage, says Jurkowitz.
---