Stephen Colbert for president? What's his point? (+video)
(Read article summary)
Stephen Colbert handed over control of his super PAC cash pile to Jon Stewart Thursday, paving the way for a run at the presidency of 'the United States of South Carolina.'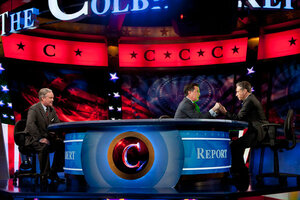 Comedy Central, Kristopher Long/AP
Stephen Colbert is thinking about running for the presidency of South Carolina! He announced that he's forming an exploratory committee to that effect last night at the top of the "Colbert Report," in case you haven't heard. Yes, yes, we know – this is huge, something so big it may possibly upend the 2012 presidential race and democracy as we know it.
It's as if a giant, smoking volcano that is not Newt Gingrich has burst out of the intersection of 17th and K Streets in Washington and is now threatening to spew lava over all it surveys. Or possibly not, since he may decide not to run, in which case, never mind.
Here's the bottom line: Colbert has two bottom lines in this case, we think. The first is to get attention. We mean no disrespect by this – that's what people in show business do. He's seized upon an actual poll that shows he's the choice of 5 percent of voters for the upcoming GOP primary in his home state of South Carolina and turned it into show-stopping comedy. That means better ratings for him and for Comedy Central.
Look, Colbert appears to love attention even more than your average spotlight grabbing funny guy, as a recent New York Times profile points out. Look at him at the start of his show, when the audience is chanting his name as he comes on – his face just lights up.
---