Marianne Gingrich interview: Is it ethical for ABC to air it now?
(Read article summary)
Questions are already arising about whether ABC's 'Nightline' is justified in airing its 'bombshell' interview with Marianne Gingrich, an ex-wife of Newt Gingrich.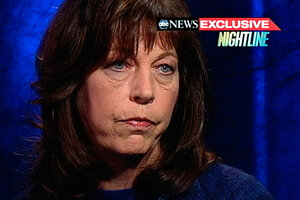 ABC News/Reuters
As the Newt Gingrich campaign confronts uncomfortable revelations from the candidate's second wife, Marianne Gingrich, that he asked her for "an open marriage" – charges that will air Thursday night on ABC's "Nightline" – questions are also surfacing about about the network's motivations for broadcasting it now.
Does ABC have it in for Mr. Gingrich? Is the show timed to hurt his prospects, which have been rising, in Saturday's South Carolina primary? Why dredge up now something that happened 10 years ago?
The full interview won't run until after the CNN-sponsored GOP presidential debate Thursday evening, but clips of it have gone viral on the Internet, and reporter Brian Ross appeared on ABC's "The View" to discuss the potential effect of Mrs. Gingrich's interview. "She spoke in measured tones," he said, attempting to play down what co-host Elisabeth Hasselbeck introduced as "bombshell" allegations." He also noted that the final impact is "for the voters to decide."
---