Did Glenn Beck endorse Newt Gingrich? Not!
(Read article summary)
Glenn Beck sarcastically endorsed Newt Gingrich on his show this morning. The Bachmann-turned-Santorum supporter is hoping the non-endorsement for Gingrich will produce Santorum votes.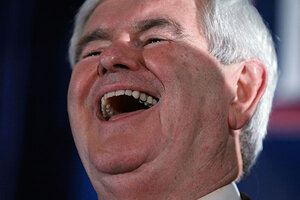 Matt Rourke/AP
Glenn Beck doesn't support Newt Gingrich. Let's get that clear right from the start. The conservative former Fox News host considers the former House speaker a "progressive " – yes, that's the word Mr. Beck used today in a segment of his online GBTV show. He's also critical of Mr. Gingrich's marital history, and his work as a consultant for government mortgage giant Freddie Mac.
But the candidates Beck has been boosting haven't been doing so well, according to him. He liked Michele Bachmann, and said so on air, and look how that turned out. She peaked at the Ames, Iowa straw poll, and after that it was a long slide downhill.
Lately he's been pushing Rick Santorum, so of course it's Gingrich who won the South Carolina primary and seized the prime spot of anti-Romney candidate.
"Whatever we say politically, you'll do the opposite," Beck said Monday on GBTV. (It wasn't clear who he meant by "you." Perhaps he was referring to GOP primary voters in general.)
---