Stephen Colbert wants his super PAC back. What if Jon Stewart won't give it to him?
(Read article summary)
Now that he is no longer running for president of the United States of South Carolina, Stephen Colbert wants his super PAC back. But John Stewart seems to have no plans to return the cash.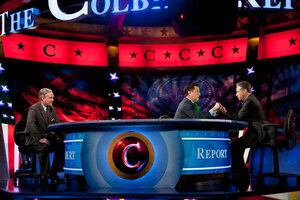 Comedy Central, Kristopher Long/AP
Stephen Colbert's super PAC – or rather, the super PAC Stephen Colbert used to control – is being held hostage by Jon Stewart, in case you haven't heard. It's now day three of this national crisis. Will Mr. Colbert ever get his money back from its "evil stepfather"?
"Don't hurt my $ Jon!" Colbert tweeted on Wednesday morning. "It has sentimental value, and even more monetary value!"
Yes, yes, we think Colbert will regain his cash. But first, let's back up and explain what's happening for those of you who are just tuning in.
Last year the "Colbert Report" host formed his own super political-action committee in order to satirize how unlimited bucks now flow into the political system. In particular, he's taken aim at the semi-fiction that candidates don't coordinate with super PACs that support them. (All a candidate has to do is go on "Fox and Friends" and announce to the world what he wants his own friends to do. Super PAC officials can listen to that like everybody else.)
---