Mitt Romney, the first Mexican-American president?
(Read article summary)
With a father who was born in Mexico and a son who lived in Chile and is fluent in Spanish, Mitt Romney has a compelling story to tell to Latino voters, some experts say.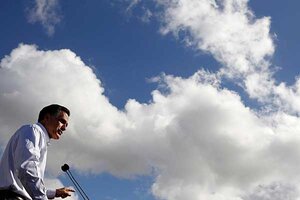 Charles Dharapak/AP
Surely, the question from the anchor of a Spanish-language network to Mitt Romney was at least partly tongue-in-cheek:
Considering that Mr. Romney's father was born in Mexico, would that allow the candidate to claim a Mexican-American heritage and dub himself the first Hispanic president, asked Jorge Ramos of Univision TV.
Predictably, Romney laughed it off.
"I would love to be able to convince people of that, particularly in a Florida primary," where Cuban-American voters could play a decisive role, Romney said. "I think that might be disingenuous on my part."
But the question was an interesting one, not least because it was asked by a Hispanic news outlet. True, the elder Romney, whose parents were missionaries, was not a Mexican citizen and left Mexico at age 5. Romney the candidate doesn't even speak Spanish.
His son does, however – and fluently, having spent time in Chile as a Mormon missionary. He has even narrated Spanish-language ads for his father and addressed crowds by his dad's side on the campaign trail in Florida. And the Romney clan does have that connection to their patriarch's birthplace in Chihuahua, Mexico.
So does it amount to anything at all for Romney and the Latino vote?
"Absolutely," says Charles Dunn, author of "The Presidency in the 21st Century."
If a candidate has a connection to another people and culture, he says, "he should use it to the greatest effect," and Romney's background means he has a story to tell.
Americans love a story well told, he notes, "and this is the tale of his own father's beginning and his love for the Mexican people and their culture."
Other presidents have used family connections to their benefit, notably John F. Kennedy though his wife. "He made the effort to speak German, and his own wife, Jackie, spoke French, which was a great plus for him," he says. "Romney's story will play well in certain parts of the country."
---