What did Stephen Colbert super PAC spend its money on?
(Read article summary)
The Stephen Colbert super PAC, 'Americans for a Better Tomorrow, Tomorrow,' has reported raising more than $1 million, quite a lot for satire, and shelling out more than $150,000.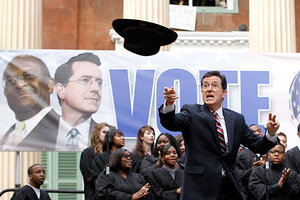 Jason Reed/Reuters
Stephen Colbert's super PAC released its first Federal Election Commission report this week, in case you haven't heard. Lots of media coverage has focused on how much money the group has raised: over one million bucks, so far. That's a lot, considering that donors know their checks are bolstering a comedic enterprise, albeit one that's satirizing the current political money system to make a point.
But when political pros analyze a donor organization they look at where the money is going as much as the amount coming in. So we took a morning to go through the expenditures portion of the Colbert report, and it's pretty interesting.
First off, there were no zeppelin purchases as far as we could see – Jon Stewart joked about that during the brief period he controlled the Colbert super PAC cash. No unicorn purchases either, despite the fact that Colbert appeared to be riding one in a super PAC-financed advertisement. There were no purchases of jewelry from Elizabeth Taylor's estate, no Trump Tower condos purchased as a super PAC clubhouse, no dollars converted into Narnia currency to create a secret slush fund for Aslan.
In total, Americans for a Better Tomorrow, Tomorrow, as the super PAC is officially known, spent $151,521.01 in calendar year 2011. Here's where it went:
Colbert's posse
---