Has Rush Limbaugh finally gone too far?
(Read article summary)
Radio host Rush Limbaugh created a furor for labeling a woman a 'slut' after she testified in favor of mandatory employer health coverage of contraception – and that was just the beginning. He may have hurt the Republican cause this time.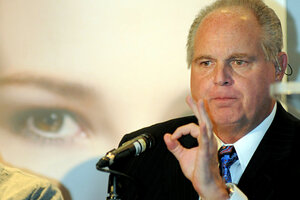 Brian Jones/Las Vegas News Bureau/AP/File
Has Rush Limbaugh finally gone too far? Has he said something so outrageous that it is actually damaging the conservative principles he espouses?
Those are relevant questions in the wake of the radio host/gadfly/provocateur's labeling Georgetown University law school student Sandra Fluke a "slut" and a "prostitute," while urging her to make public video tapes of her intimate acts. Mr. Limbaugh made the comments after Ms. Fluke testified in support of mandatory employer health coverage of contraception in front of a nonofficial congressional committee.
"If we are going to have to pay for this then we want something in return, Ms. Fluke," Limbaugh said on his radio show earlier this week. "And that would be the videos of all this sex posted online so we can see what we're getting for our money."
Fluke herself has said she was "stunned" by these remarks. In an appearance on MSNBC's "The Ed Show" on Thursday night, she said, "All [Limbaugh] needs to know is this is really inappropriate. This is outside the bounds of civil discourse."
Democrats and their political allies have rushed to her defense. Some 75 House Democrats have signed a letter to House Speaker John Boehner (R) asking him to condemn Limbaugh's words. The Women's Media Center posted a Web story titled "Rush Limbaugh's Sexism: Finally Too Much to Bear?"
Meanwhile, some Republicans have noted that while they don't support his rhetoric, they support the point about health insurance Limbaugh was trying to make.
"A law student is now a hardship case? She needs the rest of us to provide her with free contraceptives?" said conservative columnist Mona Charen in a piece posted Friday morning on National Review Online.
---