Rush Limbaugh: Do Democrats want uproar to continue?
(Read article summary)
Conservatives see 'media-generated histrionic' over vulgar comments Rush Limbaugh made about law school student Sandra Fluke. Liberals see a ripe opportunity to pin wings of GOP candidates to the wall.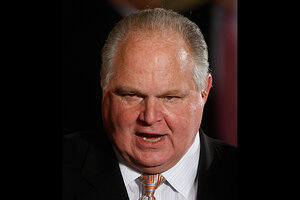 Ron Edmonds/AP
Rush Limbaugh remains in big trouble. Advertisers – 11 at last count – are pulling spots off his radio talk show because of the reaction to his calling Georgetown University law student Sandra Fluke a "slut" and a "prostitute." Opponents are mobilizing on social media for a long campaign to try to convince even more sponsors to drop his program. Ms. Fluke herself has rejected as insufficient Mr. Limbaugh's attempts at apology.
But here's our question: At this point, is it even within Limbaugh's power to apologize enough? Has the political uproar reached a state where Democratic officials just want it to continue?
That's certainly possible. Over at the liberal Plum Line blog, Greg Sargent writes that it's hard to overstate what a huge gift Limbaugh has handed the Democratic Party.
"Dems will do all they can to ensure that Limbaugh continues to loom large over the presidential race," writes Sargent.
He points out an interview Obama campaign senior strategist David Axelrod gave CNN in which Axelrod accused Mitt Romney of not showing enough outrage over Limbaugh's comments.
---