Why did Rush Limbaugh defend Joseph Kony and Lord's Resistance Army (+video)?
(Read article summary)
Rush Limbaugh criticized Obama last October for sending US troops to kill Joseph Kony's 'Christian' fighters. When apprised by listeners of the LRA's record, he expressed surprise.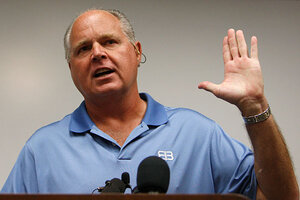 Chris Carlson/AP/File
Last October, Rush Limbaugh on his radio show defended Joseph Kony's Lord's Resistance Army, the Uganda guerilla group that is now infamous around the world thanks to a viral video from the Invisible Children organization that has exposed Kony's cruel and murderous ways.
Why in the world would Limbaugh do that? One reason is that he was not so much promoting the LRA as questioning the Obama administration's decision to send 100 elite US troops to the area to help quell fighting.
"Lord's Resistance Army are Christians. They are fighting the Muslims in Sudan. And Obama has sent troops, United States troops to remove them from the battlefield, which means kill them," Limbaugh said last Oct. 14, according to a show transcript.
Limbaugh then went on to read from what he said were the group's self-described objectives, which included "to remove dictatorship and stop the oppression of our people."
"Those are the objectives of the group that we are fighting," said Limbaugh, implying that the US had taken the wrong side in the battle.
What Limbaugh did not say was that the list of LRA objectives appeared to have come straight off Wikipedia, according to a contemporaneous New York Times account. Nor did Limbaugh mention that for years the group had been widely accused of torture, murder, looting, and wanton destruction.
---