Sarah Palin a news show 'co-host'? Rivalry with Katie Couric casts her as one.
(Read article summary)
Sarah Palin is appearing on 'Today,' pitting her against Katie Couric on 'GMA.' The ratings ploy evokes memories of the 2008 interview, but raises questions about the moniker 'co-host.'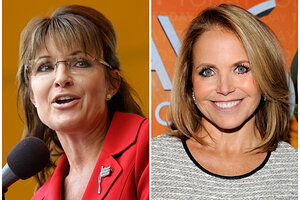 AP
As Sarah Palin prepares to go head-to-head with Katie Couric in guest appearances on the NBC and ABC morning news shows Tuesday, a few words are raising eyebrows among news watchers, namely the moniker "co-host" for Ms. Palin.
NBC, promoting the appearance of the former Alaska governor and vice presidential candidate on its website, said: "Sarah Palin will co-host Tuesday. She'll reveal a different side of her than you've seen before."
As a ratings ploy, the gambit has already succeeded, garnering buzz about whether the twin appearances will evoke memories of the infamous Couric/Palin interview on CBS during the 2008 presidential campaign, which many saw as the key turning point in which the McCain/Palin ticket began to slide.
But does this move to slot an openly partisan political figure in the host seat cross some sort of important line for a morning show produced by the network news division?
"A host has the opportunity to steer the conversation," Ed Arke, associate professor of communications at Messiah College in Grantham, Pa., says via e-mail.
Palin is being billed as a co-host and her openly partisan views could be problematic, he says. But, the larger issue is whether a news magazine like the "Today" show will begin to mimic or mirror the personality-driven discussion shows of the 24/7 news networks, he adds.
---