Katie Couric vs. Sarah Palin: why battle for morning show supremacy is so hot
(Read article summary)
ABC called in a.m. TV queen Katie Couric to trump NBC's 'Today' show. NBC called in Sarah Palin. When it comes to morning shows, networks are defending valuable turf.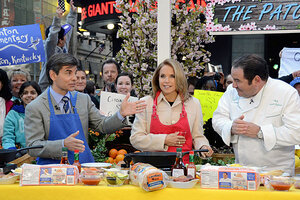 Ida Mae Astute/ABC/AP
If you thought morning news shows were just about weather and cooking, think again. As Katie Couric's high-profile stint on "Good Morning America" this week – and her faceoff with Sarah Palin on NBC Tuesday – shows, that a.m. TV real estate has become broadcasting's high-stakes battleground.
Those morning shows, which many people experience only as background noise to their morning rush, fill many important roles for the networks as they face declining viewership amid increased competition from other news sources.
They help drive brand loyalty, provide a rich landscape for advertising and cross-brand promotion, and above all else, produce a steady cash flow. According to The Hollywood Reporter, the "Today" show brough in more than $500 million in ad revenue in 2010.
"Morning shows are like the Rock of Gibraltar," says Paul Levinson, author of "New New Media." "When you get up in the morning and are getting ready to leave, you don't have time to go online or listen too closely, so they have adapted to that role of being background noise with just enough information to keep people listening."
---