Keith Olbermann: the cautionary tale of why he was fired, again
(Read article summary)
Keith Olbermann has added yet another acrimonious exit to his résumé. He tells David Letterman: 'You're always telling me how big my head is.' Media experts agree his problems are self-made.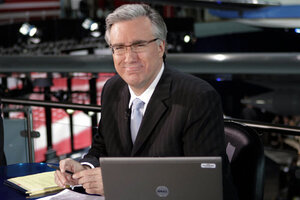 Mark J. Terrill/AP/File
This just in from the "cautionary tales from the media" department – lessons from the now former Current TV talk show host, Keith Olbermann's appearance Tuesday night on "The Late Show with David Letterman." The salient narrative emerged when the also former MSNBC talk show host went – how shall we say? – architectural. He was explaining to the late-night host what went wrong with his less-than-a-year stint at Al Gore's television network.
"Just walking around with a $10 million chandelier isn't going to do anybody a lot of good, and it's not going to do any good to the chandelier," he explained, adding, "And then it turned out we didn't have a lot to put the house on, to put the chandelier in, or a building permit, and I should have known that."
"You're the chandelier?" Mr. Letterman said.
Now, there is a certain order to the way things play out when media marriages go bad. But if even Letterman – who is usually a pretty quick study – has to clarify what the heck a guest is talking about, then Mr. Olbermann needs some pointers on which playbook he is actually in, say some observers of this latest public divorce.
---