Rupert Murdoch deemed 'not fit' to lead media in Britain. What about US?
(Read article summary)
A British parliamentary panel found that Rupert Murdoch is 'not fit' to run media giant News Corp. But the question for Congress is: What laws – if any – were broken in the US?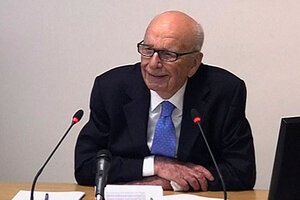 AP
In order to run a television network, a company needs a license from the Federal Communications Commission (FCC), since the airwaves are still considered a part of the public trust.
News Corporation, the owner of Fox Broadcasting, is now coming under the microscope over whether or not the FCC should look more closely at it in the wake of its phone-hacking scandal in Britain. This week, a British parliamentary committee, in a politically divided decision, said that News Corp. chairman Rupert Murdoch is "not a fit person to exercise the stewardship of a major international company."
On May 1, Citizens for Responsibility and Ethics in Washington (CREW) asked FCC Chairman Julius Genachowski to immediately revoke the 27 Fox licenses on the grounds that broadcast laws can only be used by people of good "character" who will serve "the public interest" with "candor." At the same time, a US senator has also written to the judge heading up a parallel judicial investigation in Britain to ask if there is any evidence any News Corp. units violated US laws.
---