The Bill O'Reilly-Jon Stewart 'rumble': More than a jab-fest?
(Read article summary)
In the left corner, comedian Jon Stewart. In the right corner, Fox News shout-meister Bill O'Reilly. What might they achieve, besides self-promotion, when they face off Saturday night for a political debate?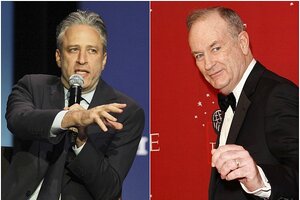 Chris Kleponis/Lucas Jackson/REUTERS
If you thought the first political debate didn't mix it up enough, the second one is much more likely to deliver.
No, not the meeting between Vice President Joe Biden and Rep. Paul Ryan (R) of Wisconsin on Oct. 11, but rather the "Rumble in the Air-Conditioned Auditorium," the hyped-up showdown Saturday night between rival cable personalities Jon Stewart, in the left corner, and Bill O'Reilly, in the right.
In "an old-fashioned duel of the wits," O'Reilly and Stewart will step up to the podiums at 8 p.m. EDT in front of a sold-out auditorium at George Washington University. Those who can't make it to Washington, D.C., can pay $4.95 to watch the live-streamed event (www.therumble2012.com), which the promotional video calls "the reason Al Gore invented the Internet."
Half the proceeds from the "debate" will go to charities, but let's be honest here. The rumble serves as a giant promotion to attract more followers to "The Daily Show with Jon Stewart" on Comedy Central and "The O'Reilly Factor" on Fox News.
---