A 4th presidential debate? Larry King to moderate third-party candidate forum.
(Read article summary)
In the Oct. 23 debate, to be livestreamed over the Internet, independent presidential candidates are expected to take on a wider range of issues, including diminished civil liberties and the drug war.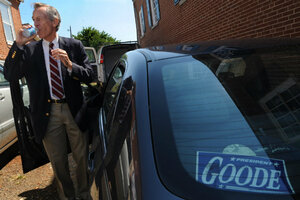 Don Petersen/AP/File
If you think the nation has heard enough politics in two presidential debates, months of campaign speeches, and TV and radio ads, think again, say at least four alternative competitors for the nation's highest office.
That's why this slew of ballot-qualified contenders will face off in this election season's biggest third-party candidate debate in Chicago on Oct. 23 (8 PM Central). Former CNN talk-show host Larry King will moderate, and the entire 90-minute event, to be held in a room at the Chicago Hilton, will stream live on the Internet television network Ora.tv and YouTube.
This may be reason to drop a load of celebratory balloons – or not, depending on whether you think third-party candidates embody the lifeblood of pure democracy or whether you believe they are the scourge of practical politics, throwing elections out of whack and the right politicians out of office.
It's pure American democracy at work, says Christina Tobin, co-moderator of the debate and founder of the Free and Equal Elections Foundation, the Chicago nonprofit sponsoring the debate.
"This debate is really about the fact that all elections should be free and equal," says Ms. Tobin. Right now, she adds, "they are not."
What the event aims to do, she says, is "bring together two candidates from the left and two from the right and let them speak about real issues, the kinds of things that people really care about. From foreign policy, to the economy, to taboo subjects like our diminishing civil liberties and the drug war, Americans deserve a real debate, real solutions, and real electoral options."
---