On Election Night, score a victory for traditional media
(Read article summary)
While people used social media to share Election Night comments, a surge in news site traffic and robust TV viewership showed so-called legacy media are still the preeminent sources for news.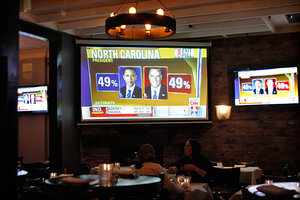 Eduardo Munoz/Reuters
Social media may be the darling of a mobile generation weaned on interactivity and speed, but Election Night this year delivered a small silver lining of good news to so-called legacy media outlets such as newspapers and television.
With massive increases in traffic on news sites linked to such outlets as The New York Times and ABC News and with 66 million viewers watching TV, news of the legacy media's death – to paraphrase Mark Twain – is greatly exaggerated.
"Content is still king," says Len Shyles, communication professor at Villanova University in Philadelphia.
While many people now interact with social media such as Twitter and Facebook while they are watching TV, Professor Shyles says, "they are commenting on it, messing around with it, having fun with what they just heard, and sharing it with others."
But, he points out, the legacy media is still the pre-eminent source, "and social media is still ancillary."
Legacy media are stage setters for social media actors, agrees Charles Dunn, author of "The Seven Laws of Presidential leadership."
Social media have come into their own as major players in political debate, he says via e-mail, "but legacy media continue to play the primary role in setting the stage for debate and discussion about political issues and personalities."
Certainly the allocation of resources in the two campaigns leading up to Tuesday night supports this view.
According to the most recent report from the Wesleyan Media Project, the number of TV ads aired in the presidential general election passed the one million mark as of Oct. 29. The two candidates, their party committees, and supporting interest groups sponsored 1,015,615 ads since June 1, a 39.1 percent increase over 2008 and a 41 percent increase over 2004.
---