Bill O'Reilly goes ballistic on Alan Colmes. Preplanned?
(Read article summary)
Fox News host Bill O'Reilly started yelling at guest Alan Colmes earlier this week when discussing President Obama and budget cuts. It was an odd development that points to deeper issues.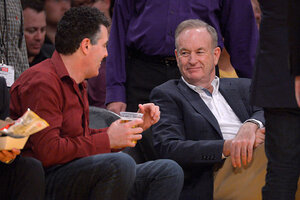 Mark J. Terrill/AP
Veteran Fox News host Bill O'Reilly had a real shout-down with regular guest Alan Colmes on the "O'Reilly Factor" earlier this week. The pair were discussing President Obama's fiscal proposals – specifically, whether the White House has proposed budget cuts to any specific programs. Mr. Colmes opined that he had. Then Mr. O'Reilly went ballistic like a North Korean missile test, jabbing his finger and turning up the volume while the smile on Colmes's face suddenly went fixed.
"You are lying! You are lying!" yelled O'Reilly.
This exchange has had some resonance in Washington for substantive reasons we'll get to a moment. But our initial reaction to the whole thing was whether O'Reilly preplanned the exchange.
This does not mean we're charging journalistic impropriety. O'Reilly is a seasoned pro whose show is the engine that drives Fox ratings. He's apologized for the personal attack, saying he wished he hadn't used the word "liar."
But we're wondering whether he and his producers had planned an amped-up discussion of the fiscal subject and things just went a little too far.
---