Gingerly, U.S. reaches out to Sharif in Pakistan
With elections there postponed until Feb. 18, and turmoil unabated, the Bush administration evaluates its options for spurring its war-on-terror ally toward greater democracy.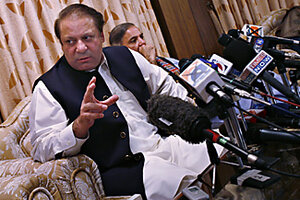 Ed Wray/AP
With Pakistan's elections postponed and turmoil there continuing, the United States is reviewing its options – including a warming toward former Prime Minister Nawaz Sharif, the top opposition leader in the absence of the slain Benazir Bhutto.
Ms. Bhutto, not Mr. Sharif, had been the Bush administration's preferred candidate for nudging Pakistan, a key war-on-terror ally, toward democratization. Bhutto was thought to be open to a power-sharing arrangement with President Pervez Musharraf, while Sharif was not.
But recognizing that President Musharraf is weakened and increasingly isolated, the US is taking the pragmatic step of cautiously reaching out to other possible winners in Pakistan's political strife.
The US action "recognizes that, very likely if there is going to be a viable and acceptable leader of the opposition in the near future, it's going to be Nawaz Sharif," says Marvin Weinbaum, a former Pakistan analyst at the State Department's Bureau of Intelligence.
Sharif, a conservative Islamic politician never accused of pro-Americanism in a country sensitive to that charge, is a close ally of Saudi Arabia – his country of exile until his return to Pakistan in November.
If Sharif were to rise in Pakistan, it could advance Saudi Arabia's goal of becoming a weightier force in regional and Muslim–world affairs – a scenario the US would not be disposed to fight. A key reason is the Bush administration's interest in containing the Saudi rival, Iran – which is a Pakistan neighbor.
---