Bush takes altered goals to Mideast
His trip includes Israel and the Palestinian territories.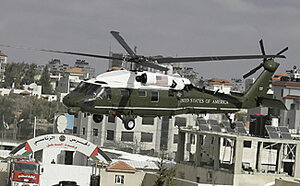 Ronen Zvulun/Reuters
Since the terrorist attacks of 9/11, President Bush has vowed to transform the Middle East for the sake of American security. This week, Mr. Bush sets off on a nine-day tour of a region that, if anything, has transformed him.
The trip will showcase a president shifting his focus from the big idea of a free and democratic Middle East to more traditional US foreign-policy goals: an Israeli-Palestinian peace settlement, the containment of a threatening state – in this case Iran – and the assurance of US energy security at a time of $100-a-barrel oil. Whatever topic he discusses in meetings, Iraq is likely to be a key factor in the background.
Bush arrives Wednesday for his first-ever visit as president to Israel and the Palestinian territories, to be followed by stops in Saudi Arabia, Kuwait, the Gulf states, and Egypt. He is less of a challenge to the region's order, some experts say, than its authoritarian rulers once feared.
"After vowing to transform the Middle East, the administration is submitting to it, resorting to the sort of process-driven incremental diplomacy that previous administrations had pursued and that this administration had disdained," says Jon Alterman, director of the Middle East program at the Center for Strategic and International Studies (CSIS) in Washington. "President Bush is no longer trying to transform the Middle East from afar. He's trying to manage it in incremental ways by arm-twisting and jawboning leaders in intimate, private sessions."
---