Should the world talk to Hamas?
A consensus to isolate the group is fraying due to the lack of political results.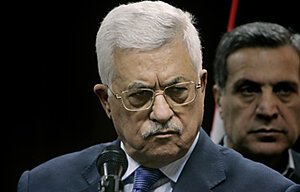 Muhammed Muheisen/AP
After Hamas won Palestinian parliamentary elections in January 2006, the international community's reaction was swift, clear, and virtually unanimous: The extremist Islamist political party would be isolated and barred from international negotiations until it recognized Israel, renounced violence, and agreed to respect earlier accords in the Middle East peace process.
More than two years later, cracks are beginning to show in the wall of resistance to Hamas, with some Western officials (and even a few Israelis) wondering publicly if it isn't time to engage an organization that continues to lead a large part of the Palestinian people. The question is even being posed in Washington.
The hand-wringing over talking to Hamas reflects a shift away from the black-and-white diplomatic approach of President Bush's first term to a more realist and results-oriented tendency in the second. If the US can talk to archenemy Iran to get something it wants in Iraq, the reasoning goes, then why not explore what might be gained from someone sitting down with Hamas?
So far, the Bush administration is not officially weakening its ban on talking to Hamas. On Monday, Vice President Dick Cheney, who was in Jerusalem for meetings with Israeli leaders and Palestinian Authority President Mahmoud Abbas, showed no signs of softening the US stance in any way. He accused Hamas of "doing everything they can to torpedo the peace process" and nixed the idea of a Palestinian reconciliation between Hamas and the moderate Fatah prior to Hamas giving up control of the Gaza Strip.
---