At NATO summit, Bush likely to get some of what he wants
His quest for more forces in Afghanistan, headway on continental missile defense may gain ground in Bucharest.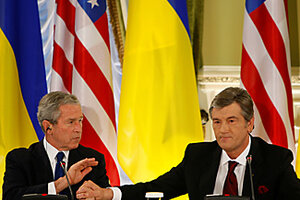 Gleb Garanich/AP
George W. Bush arrives at a NATO summit in Bucharest Wednesday focused on both the details and the big picture of his presidency's transatlantic policy.
His ability to get what he wants from the three-day gathering of NATO leaders – on boosting the alliance's combat presence in Afghanistan, advancing a continental missile-defense program, and extending the prospect of NATO membership to Russia's neighbors Ukraine and Georgia – will be challenged by his status as a lame-duck president.
While the trip is unlikely to be much of a victory tour, Mr. Bush is making what may be his last major European trip as president with his legacy intact as an American leader who helped expand eastward the reach of democracy and freedom on the Old Continent.
"Against the backdrop of ... a foreign policy that overall looks threadbare and that will hand off two land wars to his successor … this president's expansion of the freedom agenda to the newer democracies of Europe has the semblance of success," says Wess Mitchell, research director for the Center for European Policy Analysis.
---