Low hopes for Bush Mideast trip
He'll celebrate Israel's 60th anniversary, but meet with Israel's Olmert and Palestinian territories' Abbas separately.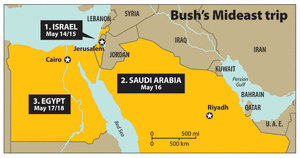 SOURCE: The White House/Rich Clabaugh–STAFF
The pageantry of President Bush's trip to the Middle East this week is sure to be impressive. On May 15, he'll tour the ancient fortress of Masada, then commemorate the 60th anniversary of the founding of Israel with an address to the Knesset. The next day he'll travel to Saudi Arabia to help mark the 75th anniversary of formal US-Saudi relations. He'll meet with Saudi King Abdallah at the king's farm.
The substance of the journey, however, is unlikely to live up to the White House's once-high expectations. Last year, the White House tried to jump-start the Middle East peace process by hosting Israeli and Palestinian leaders at an Annapolis, MD., conference. Today, there seems little chance that Bush will help deliver an outline for real Israeli-Palestinian peace before he leaves office.
"It's hard to remember a less auspicious time to pursue Arab-Israeli peacemaking than right now. The politics on the ground are absolutely miserable," said Jon Alterman, director of the Middle East program at the Center for Strategic and International Studies (CSIS), at a recent seminar.
---