Talks to keep U.S. troops in Iraq provoke ire
Proposal to extend America's military role years into the future meets lawmaker resistance, from Washington to Baghdad.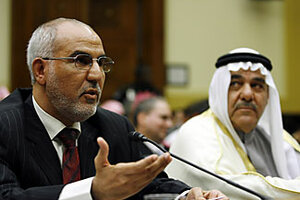 Jose Luis Magana/AP
An agreement the United States is negotiating with Iraq on the conditions for the long-term stationing of American forces there is under fire from national legislative leaders in both countries.
At the same time, an accord that would permit the US to keep soldiers on Iraqi soil for years to come – the same kind of agreement that governs the US military presence in South Korea, Japan, and Germany – faces criticism from some of Iraq's neighbors, especially Iran.
Some Iraqi parliamentarians fear the proposed agreement would keep Iraq an occupied country and a venue for the US to fight its battles with Al Qaeda and Iran. Some in the US Congress worry a deal could tie the hands of the next president on Iraq policy. Both groups say the executive branches of the two countries are too tight-lipped about a negotiating process that was supposed to be transparent.
"Any [details] we have about this agreement have come through the media, but what we have learned tells us this agreement is totally unfair to the Iraqi people," says Khalaf al-Alayyan, a Sunni sheikh and parliamentarian leader of the Iraqi National Dialogue Council, a party favoring a US withdrawal. "Whoever has a chance to look at it would realize Iraq [under the proposed agreement] would not just be an occupied country, but as if it were part of the United States."
---