U.S. eases North Korea's isolation
Bush lifts some sanctions in exchange for pariah nation's step toward nuclear cooperation.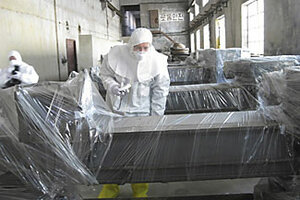 W.K. Luse/AP/file
Even as he declared that "the United States has no illusions about the regime in Pyongyang," President Bush on Thursday announced his intention to remove North Korea from the US list of state sponsors of terrorism.
That action, along with US plans to remove sanctions that date to the Korean War, follow North Korea's submission of a partial declaration of its past nuclear activities Thursday. And on Friday, the North is scheduled to destroy part of the Yongbyon nuclear reactor that produced plutonium for the country's nuclear weapons.
The administration's moves on North Korea signal a remarkable turnaround for a pariah nation that always figured at the top of Mr. Bush's list of threats. But they also hint at efforts by a presidency in its twilight to fashion a positive historical record – especially on Bush's hallmark theme of national and global security.
After having declared in 2002 an "axis of evil" made up of Iran, Iraq, and North Korea, Bush is said to be keen to demonstrate that his presidency is leaving behind a safer world. Adding North Korea to the list of global security threats defanged by Bush policies – a list that administration officials top with Iraq – would enhance the president's legacy, some experts say.
---