Military revisits Afghanistan plan
A key component is likely to be more troops, but the strategy must go beyond that, experts say.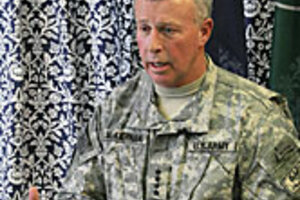 Rahmat Gul/AP
The success of the surge of American troops in Iraq is putting pressure anew on the Pentagon to build a surge plan to counter a resurgent Taliban in Afghanistan. But experts warn that it will take more than just additional troops to turn things around there.
US military officials are scrambling to devise a plan to send as many as three brigades to Afghanistan by next year, with Defense Secretary Robert Gates saying last week that he would send more forces "sooner rather than later." Presidential hopefuls Barack Obama and John McCain have in the past week voiced support for an Afghanistan surge, with Senator Obama, who just visited the country, calling the requirements there "precarious and urgent."
But a surge for Afghanistan, analysts say, must also recognize that the insurgency there – as well as the NATO command structure – is not like that in Iraq. And without a new strategy, the deployment of more forces won't mean much, they say.
"Afghanistan is not Iraq, and you cannot just template Iraq's solutions onto Afghanistan's problems," says Fred Kagan, a senior fellow at the American Enterprise Institute in Washington, who played a direct role in shaping President Bush's surge strategy for Iraq in late 2006. The surge for Afghanistan, like the one implemented for Iraq last year, must not only mean more forces but also a proper counterinsurgency strategy that defeats the insurgency by isolating insurgents from the population, Mr. Kagan says.
---