Rethinking the post-9/11 strategy
Analysts debate the rhetoric of war as part of the fight against terrorism.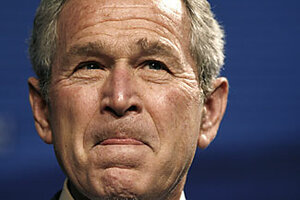 Kevin Lamarque/REUTERS/file
During the seven years since 9/11 there hasn't been a successful terrorist attack within the United States.
And Al Qaeda, the terrorist organization responsible for the downing of the World Trade Center, has been pushed back in Iraq where it continues to lose support.
But the core of Al Qaeda continues to thrive, according to security analysts, who note it has increased the number of attacks worldwide since 9/11 as well as its geographic reach.
Those facts have led to two starkly different assessments of where the United States stands in its fight against terror – as well as sharp disagreement on the strategy needed as the country goes forward.
This week the RAND Corp. sparked renewed debate about the nation's strategy when it released a report done for the Defense Department that concluded that the so-called "war on terror" has so far failed to significantly undermine Al Qaeda's capabilities. It suggested it was time for "fundamentally rethinking post-Sept. 11 US counterterrorism strategy."
A top recommendation is to replace the phrase "war on terror" with the more low-key term counterterrorism.
"Terrorists should be perceived and described as criminals, not holy warriors, and our analysis suggests that there is no battlefield solution to terrorism," says Seth Jones, the study's lead author. "With the growing number of attacks and an expansive reach, one could argue [Al Qaeda] is even growing stronger."
---