Bush tours a more secure Asia
His trip, which ends at the Olympics, is intended to showcase achievements in the region.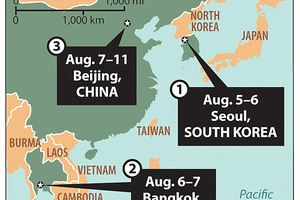 SOURCE: The White House/Rich Clabaugh–STAFF
When George W. Bush attends the opening ceremonies of the Olympics Friday, he'll make history as the first US president to attend the Olympic Games outside the United States.
But the president's attendance in Beijing will also be the culmination of a week-long trip to South Korea, Thailand, and China that the White House envisions as the showcasing of a successfully managed Asia policy that Mr. Bush will hand off to the next president. Though perhaps less flashy than the Olympics' parade of nations, the items on Bush's agenda – North Korea's nuclear program, US-South Korea relations, democracy's advance in East Asia, and China's rise as a world power – are all issues the White House sees as historic in their own right.
Relations with Thailand, South Korea, Japan, and China "have never been stronger" because of "a lot of hard work" by his administration, Bush told journalists from the countries he will visit in interviews last week.
---