US, Russia announce breakthrough on new Iran resolution
The move shows a willingness to act on common goals despite deteriorating relations.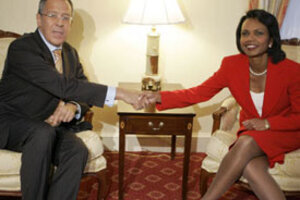 Mary Altaffer/AP
Concerns about deteriorating US-Russia relations are apparently behind the two powers' surprise agreement Friday to seek a fourth Security Council resolution on Iran – a prospect that seemed all but dead only hours earlier.
The United States and Russia had been sniping at each for weeks following Russia's August invasion of Georgia. The sour tone continued this week as world leaders gathered in New York for the annual opening of the United Nations General Assembly.
But indications that other international players – including Iran and North Korea – were responding to the two powers' spat with unwelcome turns of their own appear to have refocused Washington and Moscow on common interests.
It was not clear midday Friday when the new resolution, reported by European diplomats, might be submitted for a vote. But the new resolution is not expected to include any new sanctions – something Russia has said it is reluctant to accept. Rather, it would simply be a restatement of the Security Council's determination to see Iran comply with the council's demands to cease uranium enrichment.
---