U.S. government seeks new solutions to combat global hunger crisis
Proposals include improved seed types, better roads, and more-efficient irrigation systems.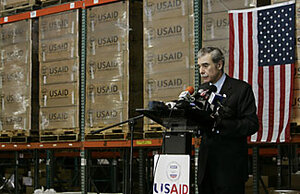 J. Pat carter/ap
Insufficient food production is one factor in the food crisis hitting much of the developing world – yet it is also true that some African farmers see 70 percent of their production lost before it reaches the market.
And irrigation will be part of the answer to feeding hungry populations – even though in much of Africa 90 percent of freshwater already goes to agriculture.
Solving such conundrums will be the key to meeting the world's food needs, says Henrietta Fore, administrator of the US Agency for International Development, or USAID.
The world faces a food security crisis that this year spawned riots in parts of the developing world, and is expected to challenge the world's poor with high prices for at least the next half-decade, she says.
"Food production is one challenge, but many of the problems are not actually the production of food but things like transportation, storage, and efficient use of resources," says Ms. Fore, who took the US effort in the food crisis to the United Nations to coincide with a global summit last week on ending global poverty by 2015. "In many ways it's a matter of getting the solutions that exist out there."
---