US more cautious in Iraq appraisals
One key reason: uncertainty about what upcoming provincial elections will bring.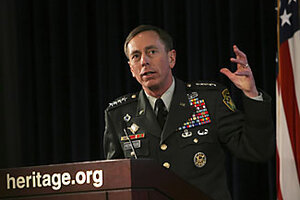 Lawrence Jackson/AP
About the time a new American president is sworn into office in January, Iraq could be holding its first elections in more than three years – elections that could either cement stability gains there or reignite sectarian tensions.
Uncertainty about what those provincial elections will bring is one reason US officials have lately been so cautious about their assessments of Iraq's future, despite six months of improved security and other positive signs there.
"There are a lot of trepidations about these [provincial] elections because there's so much potential for conflict, especially for the unappeased Sunnis to look at the results and erupt with a 'we was robbed' response," says Wayne White, a former State Department Iraq expert.
The Sunnis, who controlled Iraq under the regime of Saddam Hussein, are already unhappy with the way they are treated by the Shiite-dominated government of Prime Minister Nouri al-Maliki, he adds, especially concerning what they see as their underrepresentation in the new Iraqi security forces.
For the two men contending to be America's next president, cautious assessments by top military officials who oversee US operations in Iraq do not mesh neatly into their stated plans.
---