New resolution on Mideast peace passes at UN
With Bush set to leave, the administration tries to nudge forward the process it started in 2007.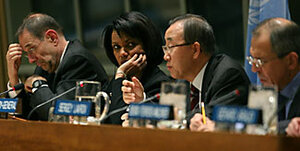 AP
The Bush administration, looking to shore up its foreign-policy legacy, and the international community, hoping to influence the future Obama White House, are teaming up to press the Middle East peace process forward.
It's an against-the-odds attempt. But the first United Nations Security Council resolution on the peace process in five years – since the diplomacy-stalling Iraq war in 2003 – was approved Tuesday. The vote was 14 to 0, with Libya abstaining.
The idea is to show broad support for keeping the peace process that was started by President Bush a year ago on its rails into the next US presidency.
The resolution, sponsored by the US and Russia, has little binding impact but sends a number of signals. First, it indicates, especially to the Israelis and Palestinians, that even though the so-called Annapolis process did not result in a peace agreement by the end of Mr. Bush's term, progress has been made and should be built upon. And second, a signal goes out to President-elect Obama that the peace process should not start over from Square 1 when he takes office.
The irony of this second point is that it is promoted in particular by the Bush administration, which wanted nothing to do with the negotiation structure left behind by the Clinton White House.
---