A surge of Special Forces for Afghanistan likely
Defense officials say it will fill urgent gaps but Special Forces officers are skeptical.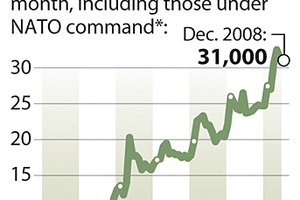 SOURCE: US Defense Department/© 2008 MCT
The Pentagon is likely to send up to 20 Special Forces teams to Afghanistan this spring, part of a new long-term strategy to boost the Afghan security forces' ability to counter the insurgency there themselves.
The "surge" of elite Special Forces units would represent a multiyear effort aimed at strengthening the Afghan National Army and police units that the US sees as key to building up Afghanistan's security independence, say defense officials who asked to remain anonymous because the controversial decision has not yet been announced. The US already plans to send thousands of additional conventional forces to Afghanistan sometime next year. But it is hamstrung by limited availability since so many of those forces are still in Iraq.
The deployment of the Green Berets, the independent, multifaceted force skilled at training indigenous forces, could fill critical gaps in Afghanistan almost immediately, defense officials say.
There are currently about 31,000 US troops in Afghanistan. Adm. Mike Mullen, chairman of the Joint Chiefs of Staff, said this weekend on a trip to Afghanistan that as many as 30,000 additional American troops could be deployed there within the next year or so.
---