Bush pushes Persian Gulf nuclear agreement
But critics say the US should go slowly on a deal that would help a crucial trading partner for Iran.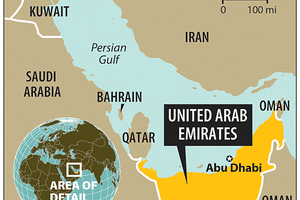 Rich Clabaugh/STAFF
The Bush administration is quietly advancing a nuclear cooperation agreement with the United Arab Emirates (UAE), raising concerns in Congress and among nonproliferation experts about the deal's repercussions in a volatile region.
The deal to provide the small but strategically located country with the means to generate electricity through nuclear technology could be signed by President Bush before he leaves office, thus making the accord – similar to the much higherprofile nuclear pact the administration reached with India – part of his legacy.
But that would leave the incoming Obama administration with the task of taking the agreement to Congress, where objections over the UAE's close trade relations with Iran – and over the Emirates' history of serving as a transshipment point for sensitive materials – are already rising.
A more recent wrinkle in the brewing controversy around the agreement is the revelation by the foundation of former president Bill Clinton that the ruling Zayed family of the UAE was one of about a dozen governments among the Clinton Foundation's hundreds of thousands of donors.
With Sen. Hillary Rodham Clinton picked by President-elect Obama for secretary of State, some observers are citing the UAE agreement as an example of the kinds of conflicts Mrs. Clinton will face as she seeks to further national interests in a world where her husband has extensive personal and business relations.
---