Clinton's first destination as secretary of State: a rising Asia
She'll talk with China and three other nations about climate change, the financial crisis, and more.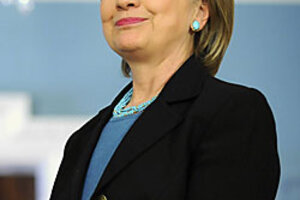 Jonathan Ernst/Reuters
The Obama administration may have come out of the blocks with quick action on the Middle East, but Hillary Rodham Clinton's maiden trip as secretary of State to China and three other East Asian countries underscores the importance the new administration places on a rising Asia.
The countries that Secretary Clinton will visit, beginning Monday, reflect the variety in the kinds of relations the United States has in Asia: There are longtime allies Japan and South Korea, bridge-building to the Muslim world represented by Indonesia, and management of China's rise as global power.
That the administration views East Asia as a key participant in addressing the world's most pressing challenges can be seen in the issues Clinton is preparing to take up – everything from the global financial crisis to climate change to nuclear proliferation.
"Historians will judge this administration and our generation on how we managed the rise of the East," says Michael Green, who was senior director of Asian affairs in the Bush National Security Council and is now at the Center for Strategic and International Studies (CSIS) in Washington. They will "look back at this [trip] as an important signal to the region."
---