US troop buildup in Afghanistan could be a defining moment
Obama's order to send 17,000 more troops comes before US has set a clear strategy.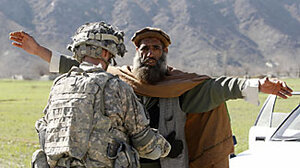 Oleg Popov/Reuters
President Obama's decision to deploy 17,000 additional US troops to Afghanistan may be a defining move that will either reverse the deteriorating situation there or mire the new administration in a war with no foreseeable end.
The president's announcement yesterday answered a months-old request from Gen. David McKiernan, the top US commander in Afghanistan, who is trying to reverse a two-year slide in the battle with Taliban and Al Qaeda insurgents. Last year produced the most US combat fatalities, 155, of any single year of the Afghan war.
"This increase is necessary to stabilize a deteriorating situation in Afghanistan, which has not received the strategic attention, direction, and resources it urgently requires," Mr. Obama said yesterday.
The deployment order signed by the president includes about 8,000 marines, who will be sent into the thick of the insurgency in southern Afghanistan late this spring, in time for the busy fighting season. Another 4,000 soldiers from one of the Army's Stryker brigades will deploy by summer, and 5,000 troops will follow in coming months.
About 55,000 NATO troops are in Afghanistan now, about half of whom are Americans. The decision expands the total US force by more than 50 percent.
But even more US troops could be on their way. Adm. Mike Mullen, chairman of the Joint Chiefs of Staff, has indicated the Pentagon ultimately may send 30,000 additional troops to Afghanistan in the coming year or so.
---