Obama's overtures seek to help a spiraling Mexico
Mexico's drug wars are spilling over into the US, forcing Obama's administration to refocus attention on the border.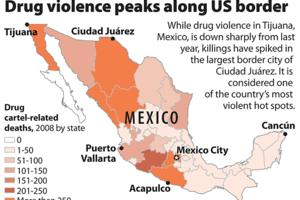 SOURCE: Reforma newspaper via University of San Diego Trans-Border Institute/AP
The Obama administration is extending sympathy and a helping hand to Mexico – something originally expected of the Bush administration but never fully delivered – as concerns mount about the spillover of violence into the United States from its neighbor's brutal drug wars.
Homeland Security Secretary Janet Napolitano – a former governor of the border state of Arizona – is promising stepped-up coordination with Mexico to stop the southward flow of assault rifles, many of which are imported into the US and then smuggled into Mexico for drug gangs. Calling Mexican drug cartels "a threat to US national security," Attorney General Eric Holder also announced plans last week to enforce a long-ignored ban on the importing of assault rifles.
Likewise, Capitol Hill approved $10 million in President Barack Obama's stimulus package toward a nationwide crackdown on gun-trafficking networks.
Even the "military to military" cooperation" once shunned by Mexico is growing as Mexico steps up the extradition of traffickers wanted in the US, Defense Secretary Robert Gates has said. This coordination can help in narco hot spots like Sinaloa State and at strategic trade points on the border, he added.
---